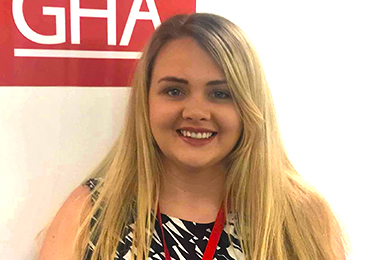 Laura McElhinney
GHA Locality Housing Director
When you go home at night can you say you've made a difference to people's lives?
I can - and that's why I love being part of Wheatley Group.
Wheatley gives me the opportunity to learn new skills, build a career and offers a bright future – but it's a million miles away from where I thought I'd be today.
I've always enjoyed chemistry and physics and I thought my future lay in science and in a laboratory. But I had a change of heart when I left school.
I applied to the Politics and Philosophy course at Glasgow University and went on to gain a joint Honours degree.
This degree allowed me to apply for a wide range of graduate training programmes.
Both of my parents had long careers in the housing sector. I was brought up hearing about the importance of good quality housing and the difference it makes to people's lives.
It felt right to make the jump to join Glasgow Housing Association – part of Wheatley Group – when they advertised a two-year graduate management trainee programme in 2012.
I spent time on the frontline and in communities. I worked side-by-side with housing officers, welfare benefits staff and in the asset team.
In year two, I became a Better Lives Officer, supporting projects in Wheatley communities for people to keep fit, learn new digital skills and find jobs and training.
Wheatley has also supported and funded me to continue to develop my skills and learning. I've achieved my Masters in Housing Studies which will allow me to take my career to the next level.
I became a Housing Officer with GHA, helping tenants with money, welfare benefits, find work and much more.
I recently started my new role as a Locality Housing Director with GHA.
This is the start of my career in housing. I wouldn't choose anything else.