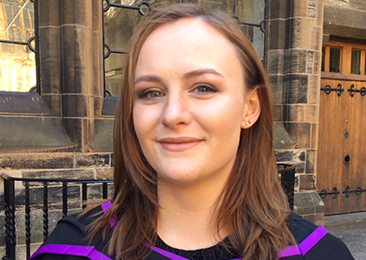 Rose Andrew
Wheatley Academy Graduate Management Trainee
My degree is from Glasgow University – but my passion and career is with Wheatley Group.
I studied Politics and Public Policy in Glasgow before graduating in 2018.
One course module in particular sparked my interest – housing.
The more I found out about the role housing plays in Scotland, the more I knew this was the career for me.
It was exciting. It was challenging. There was so much happening – and I wanted to be part of it.
I volunteered at Shelter Scotland to gain a better understanding of the issues faced by people across the country.
I then came across the GEM programme which offered training and development programmes in the housing sector.
There were opportunities at other housing associations in Scotland, but Wheatley Group was different.
Wheatley's size and range of services made it stand out. You learn across various departments and different sectors. Senior managers make themselves available if you have questions.
I've spent time with Loretto Housing Association – part of Wheatley Group – learning from housing staff on the frontline.
I'm now part of the digital experience team helping customers register for online services.
You are trusted to make decisions. Your skills are put to good use. My confidence has grown.
It's a really enjoyable place to work – and the benefits are great. I'm even getting support to learn how to drive.
The experiences you get as a graduate at Wheatley can't be matched anywhere else. I believe housing is a career for life.