DGHP formally joins Wheatley Group
Dumfries and Galloway Housing Partnership (DGHP) has been formally welcomed into Wheatley Group.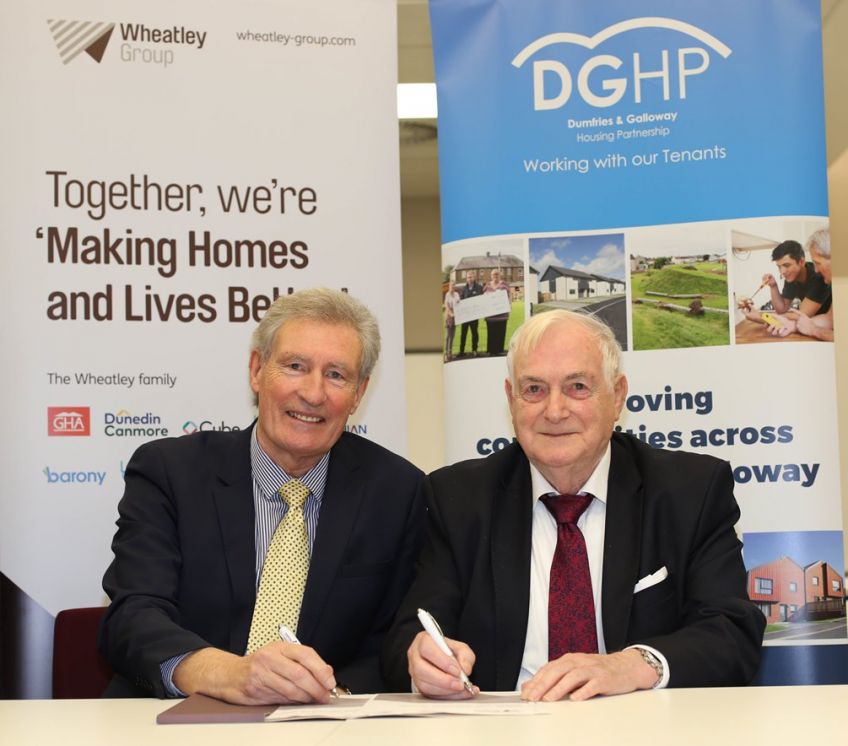 Tenants across the region will begin to see the benefits of the new partnership – including additional investment in homes and a lower than planned rent increase - early in the new year.
Wheatley and DGHP – Scotland's two biggest social landlords – are joining forces after 95.5% of tenants who voted in a ballot in November did so in support of the partnership.
The final steps to enable the plans to go ahead have now been finalised and today at a meeting of Board members from across Wheatley, DGHP was formally welcomed into the Group.
DGHP Chairman Bill Robertson said: "We have now joined forces after the completion of the necessary final steps. This included DGHP members voting in favour of the rule changes needed at our recent EGM.
"I can't thank the tenants of DGHP enough for their support throughout the last few months and during the ballot. Tenants will soon realise the benefits of the partnership – including a lower rent rise than planned, accelerated investment in homes and services as well as work starting on the first new-build properties.
"Also, early in the new year, more detailed plans will be heard about our new handyperson service and recruitment will begin for our first Modern Apprentices."
Bill added: "We are very much looking forward to implementing the partnership, which we believe has something for everyone across the whole of Dumfries and Galloway, and it's a fantastic opportunity."
Wheatley Group Chair Alastair MacNish said: "We are delighted to welcome DGHP to Wheatley and look forward to working together as we start realising the benefits for tenants, communities and staff.
"Tenants and the other people we work for are at the very heart of everything we do at Wheatley and we will do all we can to make sure that is the case in Dumfries and Galloway."
DGHP will continue to retain its name and identity with a local Board and full responsibility for the homes in Dumfries and Galloway. There will be no changes to tenancy agreements, DGHP will still be the landlord and the rights of tenants will stay the same. There will also be no compulsory redundancies as part of the partnership.
Wednesday, December 18, 2019