New senior team at Dumfries and Galloway Housing Partnership
Dumfries and Galloway Housing Partnership (DGHP) has announced a new senior team who will push forward investment in homes, communities and services across the region.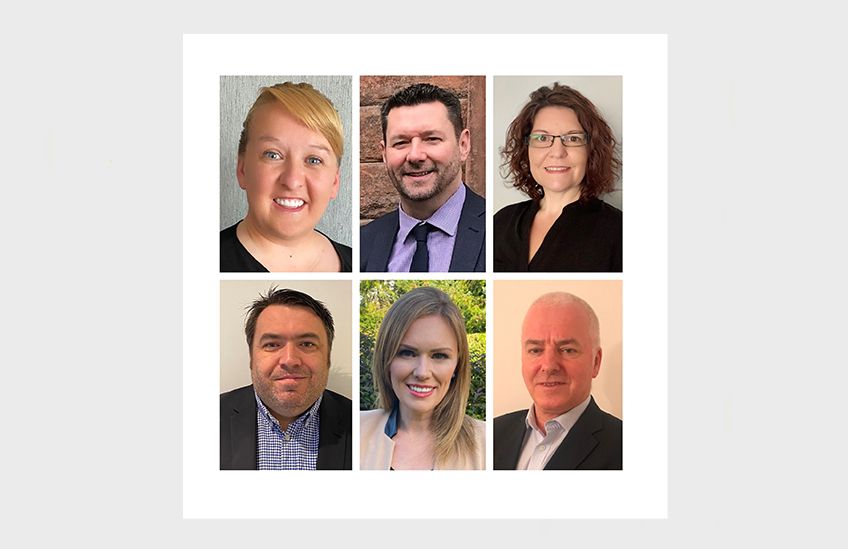 The team of six bring energy, drive and a wealth of experience to Scotland's second largest housing association which became part of Wheatley Group late last year after tenants voted overwhelmingly in favour of the move.
The new senior team, led by Matt Foreman, DGHP's Managing Director, is made up of Ray Walkinshaw, Head of Repairs and Maintenance; Lindsay Lauder, Development Manager; Lorna McCubbin, Head of Asset Investment and Compliance; and two Heads of Housing, Alison Lamont and Martin Gill.
DGHP Chair, Maureen Dowden, said: "I am delighted we have a new senior team at DGHP who, between them, not only have a wealth of experience but also a strong commitment to improve customer services and our communities in Dumfries and Galloway.
"Our customers have already benefitted from many additional support services during the pandemic as a result of being part of Wheatley Group. Our new team will build on this in the months ahead and I'm confident customers will continue to see real transformation at DGHP."
Matt took the reins back in February and has already led the organisation through the introduction of an in-house repairs service, the integration into Wheatley Group and, not least, the Coronavirus pandemic.
Matt joined DGHP from Your Homes Newcastle where he worked as Customer Service Director. With 24 years of experience working in housing in a variety of roles, he began his housing career at Gateshead Council before moving to other roles within the North East. He has been a member of the Chartered Institute of Housing for almost 20 years.
He said: "Together, we will deliver outstanding services to customers across Dumfries and Galloway, in all of our communities. High on the agenda are: increased investment in our customers' homes; 1000 new affordable homes for the region; and housing officers with patch sizes of 200 homes, enabling them to build closer relationships with tenants and deliver more tailored services.
"As part of our commitment to bring new jobs to the region, we have recruited more than 50 people into the new Housing Officer posts."
Ray Walkinshaw, Head of Repairs & Maintenance, joined DGHP in March and came to the organisation with a background in both the private and public sector.
Ray, an architectural technologist and Chartered Surveyor, has worked for three local authorities, a college and two other Registered Social Landlords as well as serving on the governing bodies of two more RSLs.
New working practices in the repairs team, like having materials in the vans re-stocked at the roadside and minimising visits to the depots, have made the repairs service more responsive and safer during the pandemic. The team also now has cutting-edge IT systems at their disposal – all of which will provide customers with excellent services.
Alison Lamont, Head of Housing for Wigtownshire, Stranraer, the Stewartry and Upper Nithsdale, comes to DGHP with 16 years of experience in within social housing and local authorities.
Alison, who has worked in homelessness, housing support and policy and strategy in Dumfries and Ayrshire, came to DGHP at a crucial time with a move to some of the smallest patch sizes in the country, one Housing Officer to 200 customers. Alison is working with partners such as the local authority, health and social care as well as the police and fire service to forge strong partnership links.
Martin Gill, Head of Housing, for the Dumfries and Annandale and Eskdale areas, also came to DGHP in September.
Martin, who has more than 25 years of experience within the housing sector in a variety of roles, including as Director of Housing and Support at the youth homeless charity Centrepoint, is looking forward to focusing on ensuring customers are living in safe and vibrant communities and that they feel supported.
Lorna McCubbin has been with DGHP for three years and has recently moved into her new role as Head of Asset Investment and Compliance.
With a background in the local authority, more latterly in health, safety and building compliance in schools, Lorna is working on remobilising and delivering over £75m programme of investment works, fully in line with Scottish Government guidance. This work includes wall insulation, energy efficiency works, new windows, external works and heating, kitchens and bathrooms.
Lindsay Lauder, Development Manager, joined DGHP in March and is responsible for delivering 1000 new homes as part of our ambitious development programme.
Lindsay, is a member of RICS and has a background in development management, having led some of the largest development programmes by RSLs in Dumfries and Galloway in recent years. With 16 years of experience in property and development, she will focus on delivering more affordable homes across the region, creating better homes and better lives for customers.
Lindsay has previously held roles including Development Manager, Managing Director and latterly was Director of Property and Development with another housing association.
Matt concluded: "This is a really exciting time in DGHP's transformation journey and our customers have already benefited from many new services that have been introduced as a direct result of the partnership."
Pictured above (top left to bottom right): Alison Lamont, Matt Foreman, Lorna McCubbin, Martin Gill, Lindsay Lauder and Ray Walkinshaw.
Tuesday, November 10, 2020