Work starts on new DGHP homes for Dumfries and Galloway
Work to provide more affordable DGHP homes for rent has started across Dumfries and Galloway as part of an £11million project.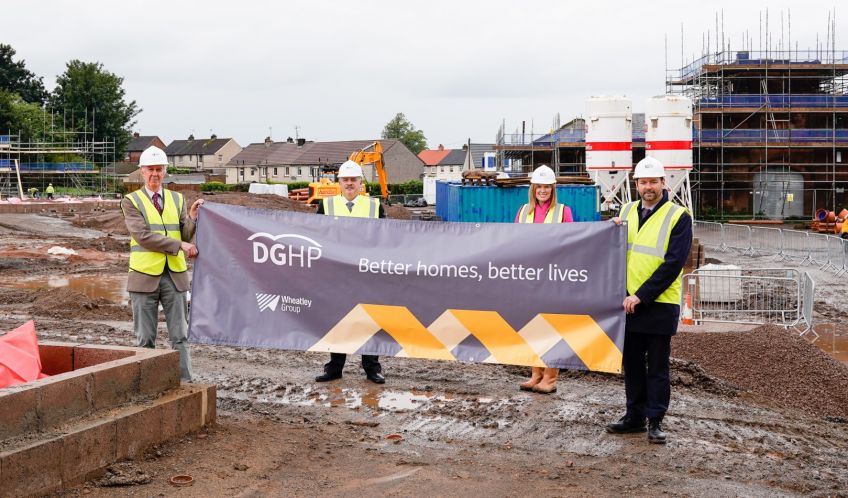 Work has started on the 49 properties at three sites across the region at Monreith, Sanquhar and Lincluden, in Dumfries. These projects are included in Dumfries and Galloway Council's Strategic Housing Investment Plan.
DGHP, part of Wheatley Group, Scotland's largest housing, care and property-management group and the UK's biggest developer of homes for social rent, is delivering the £11million investment with grant funding support through the Scottish Government's Affordable Housing Supply Programme.
The development programme has been kickstarted after DGHP joined Wheatley Group late last year and it comprises five houses at St Medans in Monreith; 12 at Queensberry Square in Sanquhar and 32 at the former Stables, in Lincluden.
Development work, which started on-site in early March, was delayed due to the pandemic and government restrictions; however, this resumed last month with additional safety measures in place.
The Monreith development, which includes a contribution of £105,000 from Dumfries and Galloway Council to enable delivery, will comprise a mix of four houses (two 2-bed and two 3-bed) and one bungalow, delivered by City Building.
The 12-home development at Sanquhar will consist of five 1-bed bungalows, five 2-bed bungalows and two 2-bed disabled bungalows.
The largest of the sites at Lincluden will comprise 11 2-bed bungalows, 10 2-bed houses, six 3-bed houses, four 4-bed houses and one 1-bed bungalow and allows for the renovation of the former stable block.
The projects at both Sanquhar and Lincluden are being delivered by Ashleigh (Scotland) Ltd.
Maureen Dowden, DGHP's Chair, said: "These 49 new homes are an important milestone for DGHP, and we are delighted to be onsite in these locations across Dumfries and Galloway.
"This is one of our many commitments to customers as part of the partnership and it's excellent news that we've broken ground on-site. I look forward to seeing the properties completed and our first customers receiving the keys to their new homes.
"These homes, which are much-needed affordable homes for the region, will help many local people and their families. The new homes will be energy efficient and homes for life, with renewable energy air-source heat pumps being installed at Monreith."
Minister for Local Government, Housing and Planning, Kevin Stewart, said: "I want everyone to have a warm, safe home where they want to live so I am delighted our affordable housing funding contributed to the construction of these 49 new energy-efficient homes.
"We are proud of our record of delivering over 97,000 affordable homes across Scotland and remain absolutely committed to delivering on our current ambitious target of 50,000 homes."
Councillor Archie Dryburgh, Dumfries and Galloway Council's Housing Convenor, said: "As the region's strategic housing authority, Dumfries and Galloway Council is delighted that construction work is beginning once again in our region. These houses will provide much-needed, affordable and sustainable housing for local families. The energy efficiency of these homes will also contribute to alleviate fuel poverty and reduce carbon emissions.
"Our Strategic Housing Investment Plan helps tackle a range of socio-economic challenges, encouraging working age people to stay in our region, protects our most vulnerable residents and also adds to the region's economic development by providing a huge boost to the construction industry, which is much needed as we start to emerge from the Covid pandemic."
Pictured above: DGHP's Vice Chair, John Henderson; Councillor Archie Dryburgh, Dumfries and Galloway Council's Housing Convenor; Lindsay Lauder, DGHP's Development Manager and Matt Foreman, DGHP's Managing Director onsite at the former Stables at Lincluden in Dumfries
Tuesday, September 01, 2020