New GHA homes changing tenants' lives and transforming communities
New GHA homes are changing tenants' lives – and transforming communities at the same time.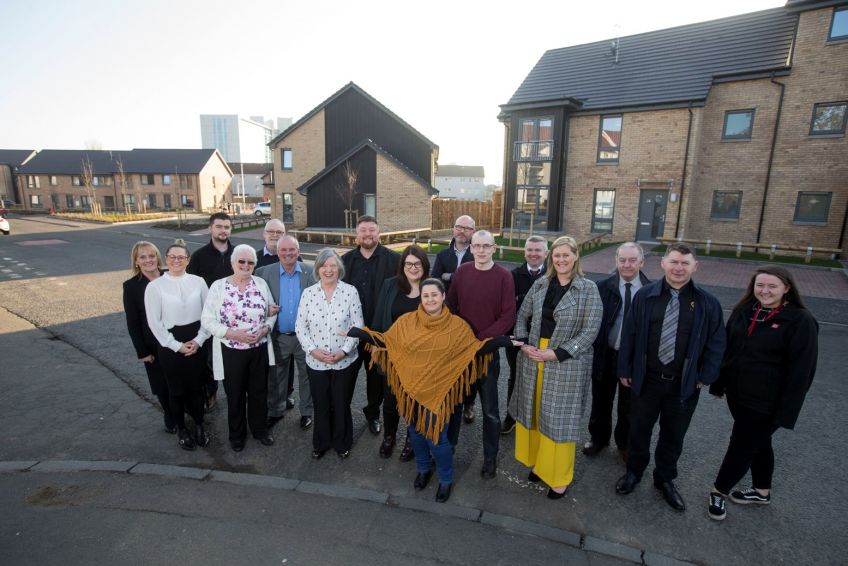 Tenants have just moved into 51 new GHA homes built on the site of the former high-rise blocks at Tarfside Oval in Cardonald.
Three of the blocks were demolished in 2015, with the fourth brought down in 2016.
Tenants were welcomed into their new homes by Leader of Glasgow City Council, Councillor Susan Aitken and GHA tenant Board member Cathy McGrath, along with representatives from the city council, the Scottish Government as well as Wheatley Group, GHA and contractors, CCG.
Cheryl Brogan, 29, a full-time carer for dad George, who uses a wheelchair, said her new home in Tarfside Oval has really improved her dad's quality of life.
Cheryl said: "Our new home is brilliant. It's going to change my dad's life massively. We have a ground-floor flat with a main door, which means dad can get out and about in his wheelchair.
"Now I won't need to worry about my dad being stuck indoors. We can do so many more things together. He's much happier already."
Michael McKay, 30, a security guard, moved in at the end of last year.
Michael said: "When I first walked in here I thought I was in a hotel. It's really spacious and I have my own balcony too, which is great. It's a private space where I can relax and will be somewhere nice to sit in the summer.
"There's a really good heating system – and I'm saving money already.
"It's really quiet, the neighbours are friendly, and the homes make the whole area look better. I'm really happy here."
GHA tenant Board member Cathy McGrath said: "We always want to build homes that meet people's needs. It's great to hear how their new home has really improved Cheryl and George's quality of life and how happy Michael is.
"As well as giving families a whole new lease of life, the new homes have transformed the whole area too."
The homes in Tarfside Oval are a mix of flats and houses, with five of the homes suitable for wheelchairs.
The £7m development was built with the help of a Scottish Government grant of £3.75m.
Councillor Susan Aitken, Leader of Glasgow City Council, said: "People's homes are absolutely fundamental to their quality of life, and it's great to see that these new flats and houses in Cardonald are making such an immediate impact on people's lives.
"We are committed to working with our partners such as GHA to ensure that homes of this standard continue to be built in every part of the city."
The development was built by contractors CCG.
As part of the contract with GHA, CCG created four apprenticeships, four new jobs and seven work placements, as well as a donation towards a new garden for Our Lady of the Rosary nursery.
David Wylie, Managing Director of CCG, said: "Working in partnership with GHA, we have delivered a fantastic new development as well as bringing a wide range of community benefit initiatives including new full-time jobs, apprenticeships and work placements, as well as educational support for local schools."
Pictured at top of page: Councillor Susan Aitken joins tenants and staff from GHA and Wheatley Group, elected members, representatives from the city council and the Scottish Government and contractors CCG at Tarfside Oval.
Pictured above: Councillor Susan Aitken with tenant Kristin MacPhail and GHA Board member Cathy McGrath at Tarfside Oval.
Wednesday, February 27, 2019