A perfect childhood, wonderful memories and a sprinkling of happiness
A Drumchapel couple received a touching letter from a previous tenant describing how much he enjoyed growing up there.
Michael and Kathleen Meehan, who moved into their flat two years back, received the letter earlier this year. The man grew up in the flat and lived there until April 2016.
His heart-warming letter describes 'wonderful memories' from his 'perfect childhood' spent roaming the open space and countryside in Drumchapel.
Michael, 30, said: "It was really nice to receive the letter. It's like an oral history of Drumchapel. It's amazing.
"There's still some wallpaper in the flat from that time – and there are stumps on the ceiling where the pulley used to be.
"I grew up in Invercanny Road and it was great. My granny, cousins, aunts and uncles all lived close by. It was a close-knit community, really quiet, and we had everything we needed. I really enjoyed growing up here.
"The letter is like a little piece of history. When we leave we'll try and do the same thing!"
Here's the letter in full.
(Thanks to John Wylie Barclay of Drumchapel Camera Club for some of the old photos)
'It's hard to imagine the excitement of all these families'
An early photo of Drumchapel shopping centre
I'm writing this to give you a bit of background on your flat.
I was brought up in this house and my family lived here for over 60 years. My mum and dad moved into the flat in 1954 when it was brand new. I was four years old and can still remember drawing up in the big furniture van with all our belongings.
We lived in a tenement in Scotstoun when my parents heard about homes being built in the country in 'Drumchapel'.
They applied and turned up on allocation day. The houses were being allocated by council employees right in the living room, with about 40 families queued out the door and down the stair into the street. Our flat had a large front balcony and a great view down the Clyde – there was no hospital in the field across the road then.
It's hard to imagine the excitement of all these families in the same position moving into a brand new street, all making new friends. The last block of flats before you go round the corner was a police close. All police were given subsidised council houses in those days.
On a Friday, when I was wee, I would walk down to the 'wee shops' on Glenkirk Drive to meet dad after work and he would buy me a bag of chips from the chip van. Great!
'We had a fantastic childhood'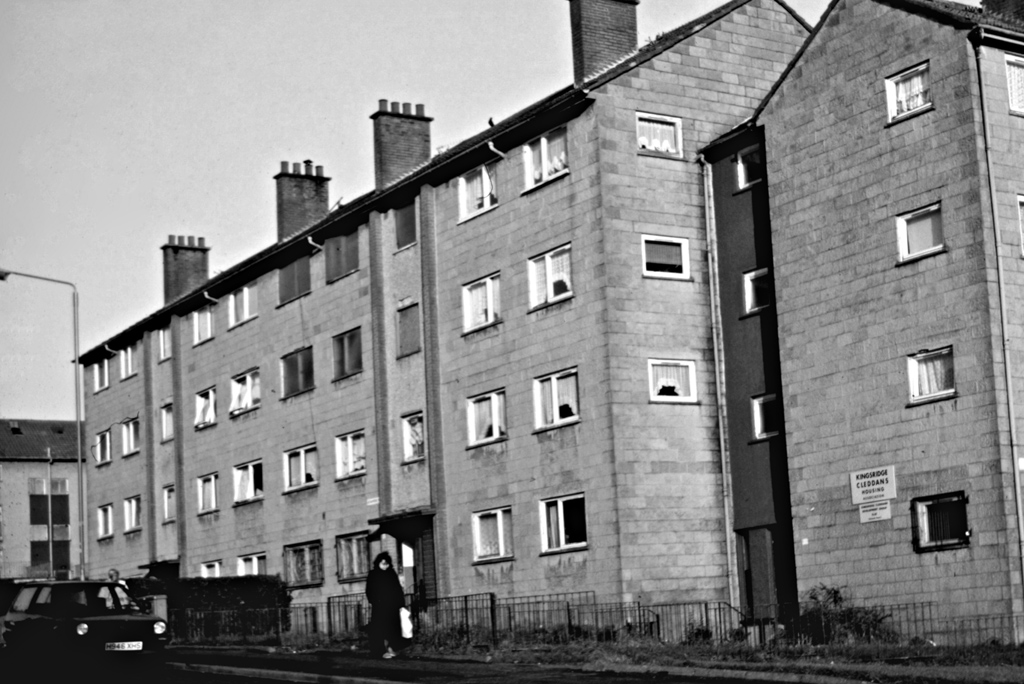 Achamors Road, Drumchapel, back in the day
Being only four, I had loads of playmates as every family had kids.
When I turned five, initially, I had to walk over the canal all the way to Cloberhill Primary on Great Western Road. When I was six, Stonedyke Primary opened. I went there till I was 12, then cycled every day to Waverley Secondary at Knightswood Cross.
We had a fantastic childhood. We played hide and seek, kick the can, rounders – there weren't so many cars in the street back then – catch, cuddle and kiss, and, of course, football.
We played on bikes and scooters round and round the triangle of grass further down.
There were no doors on the closes so we had the whole street's back gardens to hide in.
We played soldiers or cowboys and would pretend to fall off the wall if we got shot.
The wall was a great feature of the street, with lovely coping stones. We felt very lucky to have this feature in our street.
The girls would gather at the front steps to swap 'scraps'.
My younger brother's pal lived in the next block. He used to pass a string out of our back bedroom window across to his pal's kitchen window opposite and with a can at each end they could talk to each other – an early version of the mobile phone I suppose!
'The dads all grew vegetables and got to know each other'
An old photo of Kerry Place, Drumchapel
There was a great view from all of the houses.
The field opposite was known as the cornfield. Once a year, the farmer cut all the long grass and we had great fun jumping on haystacks.
We created a full-size football park in the field and we had a bonfire there every year and set off fireworks. There were no organised events back then.
We used to time each other cycling round the wee school next to the cornfield.
There were no trees in front of the school back then so your mum could see you to shout you in for dinner.
In our back garden the square area beyond the drying green was split into four by the dads in the upper flats and they all grew vegetables there and got to know each other.
The wee slope next to the steps was also sectioned off into four and each of the children in the upper flats were given a garden to grow flowers.
I hope this has given you a taste of the perfect childhood we had and what wonderful memories we have. Hope we have left a sprinkling of happiness there and if you enjoy your time there half as much as we did, you will be very happy.
Thursday, April 05, 2018