Charity partnership helps keep Wheatley communities clean, green and beautiful
Wheatley communities are looking their best thanks to a pioneering partnership with one of the country's leading environmental charities.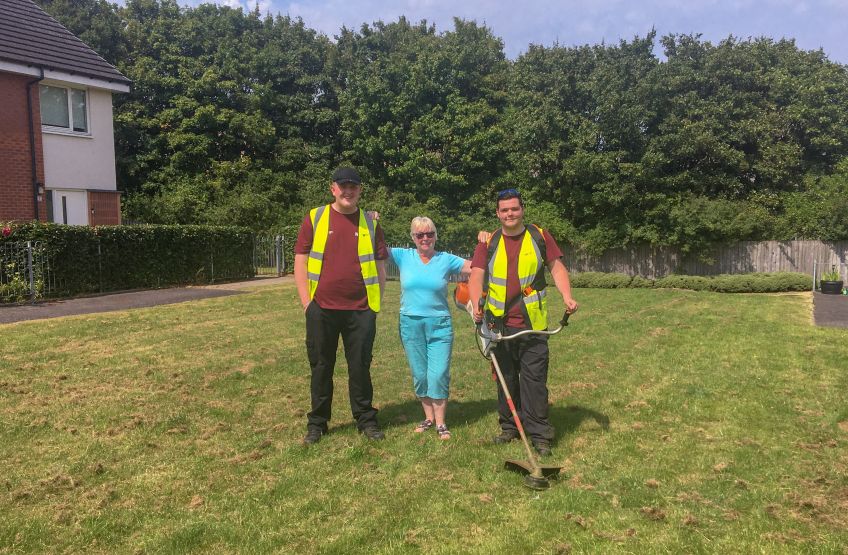 Wheatley Group teamed up with Keep Scotland Beautiful – the national charity that helps create cleaner, safer local environments – in 2017 to help improve neighbourhoods.
The partnership sees foyers and stairwells as well as back courts and open spaces inspected by tenants and staff from Wheatley and Keep Scotland Beautiful, in line with the charity's prestigious National Award for Environmental Excellence®.
They then grade communities as three, four or five-star – with five-star the top grade.
More than three quarters of Wheatley Homes Glasgow communities reached the highest grade this year – with Dunedin Canmore, Loretto Housing, West Lothian Housing Partnership (WLHP) and Lowther neighbourhoods all achieving five stars.
Marion Copeland, 76, a Wheatley Homes Glasgow tenant from the Gallowgate, knows the value of clean, green and safe neighbourhoods.
Marion said: "I take pride in my home so it's important to take pride in the place I live too.
"The partnership with Keep Scotland Beautiful is an important way of keeping communities clean and in good condition. It's good that people play their part.
"We want to keep Glasgow looking its best and I like to do as much as I can.
"I took part in walkabouts with Keep Scotland Beautiful before the pandemic and I'd be very happy to take part in more.
"The partnership is a good thing and can only benefit communities across Glasgow."
Steven Gray, Wheatley's Director of Environmental Services, said: "We want our customers to be proud of where they live, and our partnership with Keep Scotland Beautiful has helped us raise standards in our communities.
"We know how important it is for people to live in safe, clean and green neighbourhoods and it's a fantastic achievement to get so many five-star awards for our communities.
"Working with Keep Scotland Beautiful has ensured all our neighbourhoods are expertly and independently assessed to a recognised standard and helped us make sure our areas are the best they can be.
"We'll continue to do all we can to improve our neighbourhoods."
Keep Scotland Beautiful has trained more than 200 Wheatley staff and tenants in environmental standards since 2017 and helped carry out 1500 assessments of Wheatley neighbourhoods across central Scotland.
Earlier this year, Wheatley held a week of action in communities across central and southern Scotland. Staff and tenants were joined by community groups, school pupils and volunteers to tackle litter and fly-tipping, improve recycling initiatives and create community gardens.
Katie Murray, Environment and Place Services Manager with Keep Scotland Beautiful said: "It is inspiring to see the commitment made by the customers and employees of Wheatley Group as they have worked together to address issues brought forward through our assessments and ultimately driven environmental standards up.
"For over 70% of Wheatley neighbourhoods to achieve a five-star rating is tremendous and something to really be celebrated – especially at this time with so many challenges facing the teams.
"We are continuing our work with Wheatley and developing new strands such as a 'Week of Action' on waste, and establishing Clean Up hubs will empower people to get involved in litter picks in their own communities."
Thursday, August 04, 2022