'It's given us something to look forward to' – tenants hail £73M Wyndford plans
Tenants in Wyndford have backed ambitious proposals for the regeneration of the Glasgow estate.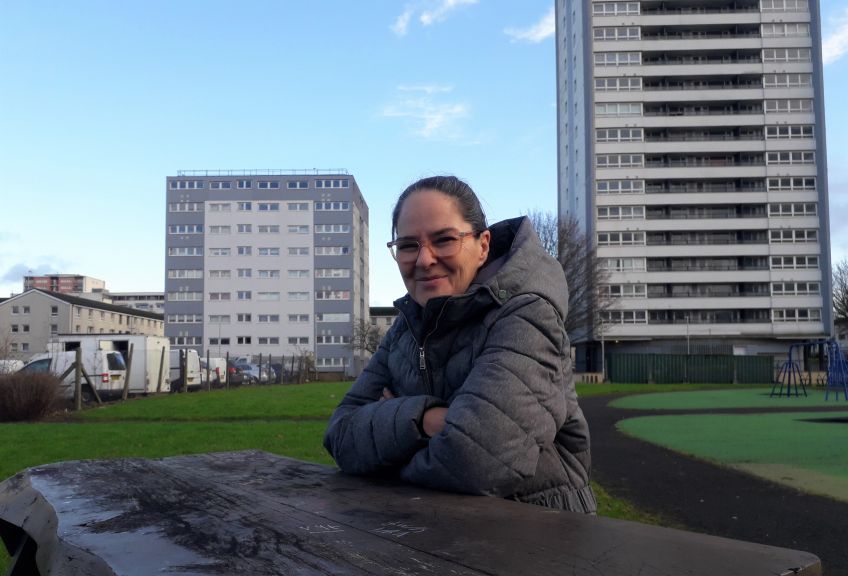 Wheatley Homes Glasgow announced plans last year to invest £73 million building 300 new homes in the area and carrying out other major improvements.
More than 250 of the new homes will be for social housing, with the rest for affordable housing, and a large number will be much-needed homes for families.
Four unpopular multi-storey blocks – at 151, 171, 191 and 120 Wyndford Road – will be demolished to make way for the new homes. All other blocks in Wyndford are being retained and upgraded.
Lesley Green, 52, from Carrbridge Drive, is backing the plans to transform the estate.
She said: "I grew up in Maryhill and I've lived in Wyndford for six years. It's a good community and I like it here. People look out for each other.
"I'm happy the blocks are coming down. They're an eyesore. We need more modern, up-to-date homes built in their place.
"I'm looking forward to more houses to accommodate families in Wyndford and more accessible homes for disabled people too.
"The regeneration plans have given everyone in Wyndford something to look forward to."
Tenant Sean McNeill, 31, moved from 120 Wyndford Road to Dennistoun in January last year.
He said: "I liked Wyndford, but I didn't enjoy living in the blocks. The flats were too small and draughty and living there was affecting my mental health.
"Time is up for the blocks. They should have been demolished years ago. The regeneration of Wyndford is overdue. It's definitely the way forward."
Lesley joined other tenants, along with Wheatley staff and architects, at the third meeting of the Wyndford Futures focus group earlier this month.
The group, which meets regularly, is an important way for tenants to get involved and help shape the regeneration proposals.
Lesley said: "Wheatley have always been open to tenants' views. Staff are very hands-on and willing to listen and take tenants' views on board.
"The meetings are a chance to hear from tenants and make us part of the plans. The architects were really involved too, listening and paying attention to what we said we want.
"Wheatley really wants to work with us, so it would be good if as many tenants as possible go to these meetings.
"The future looks better than it did. We're enthusiastic about making our community somewhere we actually want to live."
Feedback from a consultation last year about the regeneration plans was overwhelmingly positive, with 85% of Wyndford tenants who responded supporting the regeneration plans, and 87% of tenants living in the four 26-storey blocks earmarked for demolition also backing the proposals.
The regeneration will have no private homes for sale or commercial units included and no land will be sold to private developers.
The blocks at 151, 171, 191 and 120 Wyndford Road, which are already being prepared for demolition, had low levels of occupancy and very high rates of turnover.
Tenants there are being given expert support and a personalised one-on-one 'housing options' interview to identify their individual needs and preferences.
Those tenants who wish to return to Wyndford after the redevelopment is completed will be given priority to move back into the area. So far, 90% of tenants have either moved or have been offered another Wheatley home in an area of their choice.
Bernadette Hewitt, Tenant Chair of Wheatley Homes Glasgow, said: "Tenants overwhelmingly support the plans to demolish the four 26-storey blocks and for over £73 million to be invested in their community.
"The new homes we are planning will offer modern, low-rise living spaces. These new homes will also use the latest technology and energy-efficiency standards to help keep tenants' energy bills low. It's an exciting time for Wyndford."
As well as the £60m invested in new homes, Wheatley Homes Glasgow is spending £13m on other improvements in Wyndford.
New CCTV and new controlled entry systems is being installed in the remaining multi-storey blocks in the area, and work is starting on a new 24/7 concierge station this month. More improvements, including an expanded environmental service, improved outdoor spaces, better car parking, new bike stores and new bin stores – will be carried out in the spring.
Any tenant who wants to take part in the Wyndford Futures focus group should talk to their housing officer, email talk@wheatleyhomes-glasgow.com or call 0800 479 7979.
Image caption: Wyndford tenant Lesley Green says regeneration plans give people something to look forward to
Wednesday, January 25, 2023