Ways we can help
Did you know Wheatley offers support to help people budget, keep fit, furnish their home and more?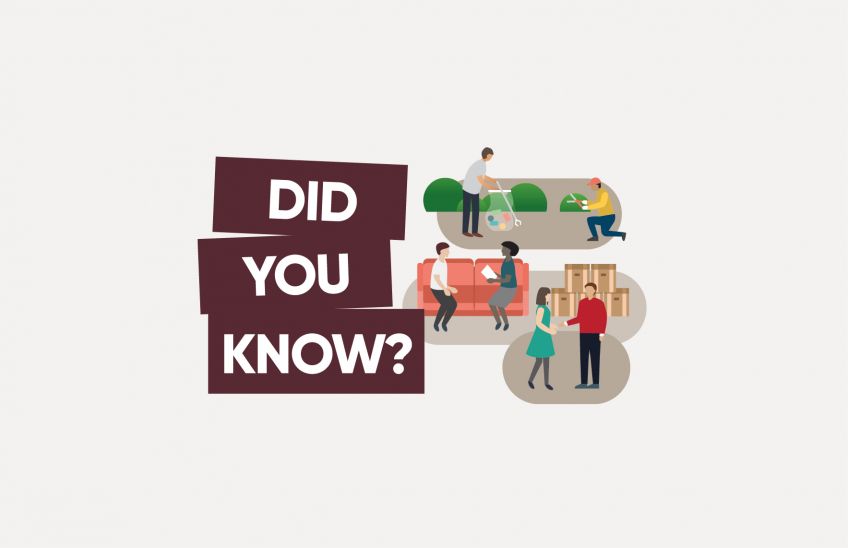 Find out more about the many different support programmes Wheatley Group offered customers in 2018/19. Did you know...
The My Money scheme was used by 460 people in need?
My Money - a project funded via The National Lottery Community Fund and the European Social Fund - mentors and offers practical help to get finances back on track.
780 people got help from our Home Comforts recycled furniture scheme?
Wheatley Group upcycled 2981 items of furniture and white goods in 2018/19 and passed them on to customers who needed help to furnish their home through our Home Comforts programme.
2981 pieces of furniture were recycled and passed to tenants in need?
Our Home Comforts service helps tenants who need furniture but can't afford it. We take unwanted pieces of furniture, clean them and make them as good as new. We then pass them to tenants who need them the most.
Our EatWell project supplied 6000 food parcels?
Our EatWell scheme helped 1028 tenants in 2018/19 who faced real hardship and who may have been forced to turn to food banks. EatWell is about more than just emergency food parcels. Money, debt and budgeting support helps tenants in the months and years ahead.
Our Veterans Support Service helped 200 people?
The Veterans' Service, funded by the UK Government LIBOR Fund, supported almost 200 people since launching in late 2017.
1765 new tenants got help from our My Great Start programme to manage their tenancy?
My Great Start offers free, confidential and independent support to help new tenants stay in their home for years to come. Tenants can get support with health issues, problems with money or not having a job.
The Wheatley Foundation funded 3776 gift vouchers to children living in Wheatley Group communities?
The Group's charitable trust, the Wheatley Foundation, distributed gift vouchers worth £25 to 3776 disadvantaged children in our communities in 2018/19.
516 children received a book each month?
Wheatley has signed up for the Dolly Parton Imagination Library. More than 2800 free books were sent out to 516 children in Wheatley communities in 2018/19.
The Tenancy Support Service helped 1775 customers retain their tenancy?
The Tenancy Support Service helps vulnerable tenants of our social landlords, offering specialised support from money and budgeting advice to to help with addictions and wellbeing.
Our Fuel Advice service helped tenants save £504k?
Our fuel advisors help tenants of all ages find the lowest energy rates. Advisors can also arrange low-cost repayments if tenants fall behind with payments – or, in some cases, get debts written off. In 2018/19 the service helped 3912 tenants save £504,000.
Tenants claimed over £8.1m thanks to our welfare benefit advisors?
Our welfare benefit advisors help tenants claim all of the benefits they are due. They help tenants understand the changes to the welfare benefits system and help customers who are on Universal Credit. In 2018/19, the support provided helped 6672 tenants claim £8,120,448.