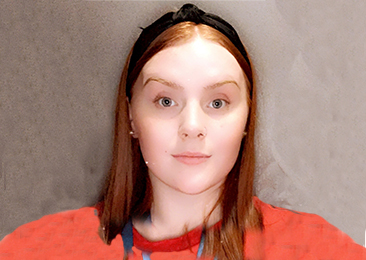 Brooklyn Mair
Brooklyn Mair, 18, from Barlanark, is in the first year of her modern apprenticeship with Loretto Housing Association.
I was homeless at the time and living in temporary accommodation. My career advisor at school told me about the scheme.
I knew I couldn't go to uni or college. Given my circumstances and trying to run a home meant it was too much for me.
You never hear your friends say 'I want a career in housing'. Most people don't really know what it is.
When you apply for an apprenticeship you think you'll be stuck behind a computer all day – but it's not. Within days of starting I was helping organise our AGM.
I get out and about, which I love. I volunteer at my local youth group and help people, but this is different.
I've even helped out at the Wheatley job fair encouraging young people to sign up for an apprenticeship.
Being at Loretto has given me more confidence. I'm encouraged to get out and meet as many people as possible.
My professional development has really improved over the last six months and I now know what it takes to work in a big company.
I have a really good relationship with my manager. We're already talking about what next for me when I finish my apprenticeship.
I'd love to get involved with the Community Engagement Officers as that's what I love helping people.
I'd say to anyone my age to apply for it 100 per cent. I really mean that.
No matter what your background, you should apply. Everyone on the apprentice scheme is different. We've all come from different places.
It's a great opportunity to get a career. I love coming to my work.
Back to Our stories