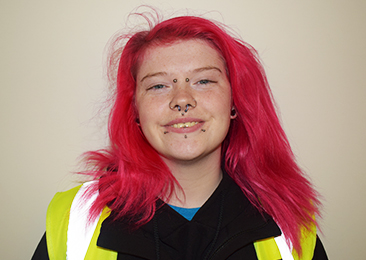 Joie Rodger
Joie Rodger, 19, from Springburn, is a Modern Apprentice with GHA's Neighbourhood Environmental Team.
I didn't get the qualifications I wanted when I left school.
I'd thought about being a nursery teacher or a career in cooking, but both didn't work out.
Skills Development Scotland suggested I look at Wheatley's Modern Apprentice programme.
I already knew a bit about GHA as my uncle works with the Neighbourhood Environmental Team cleaning closes and keeping communities tidy.
An office job wasn't for me as I like being outdoors and in different places.
At first I was nervous about going along to the open day as I thought I'd be the only female, but there were three others as well.
I'm just treated as one of the guys. It feels like we're part of the same family.
There's always support available if you ever need to talk to someone.
Some days it can be exhausting, but I really enjoy the job, especially cleaning the closes.
In my second year of the apprenticeship I can apply for other environmental teams in Wheatley such as the voids or the tree cutting.
Wheatley Group is a good place to work. You get a lot of help if, like me, you are dyslexic or need extra support.
You don't need any qualifications to apply and you'll get the chance to learn new skills.
If you get the chance to come to Wheatley then you will enjoy it.
Back to Our stories