How Albion Rovers can beat the Barcelonas
When Glasgow Housing Association (GHA), at the end of last year, was named one of Europe's top businesses, it dispelled the myth public organisations can't be as efficient, as high performing and as customer focused as the private sector, without losing any aspect of social conscience, writes Wheatley Group Chief Executive Martin Armstrong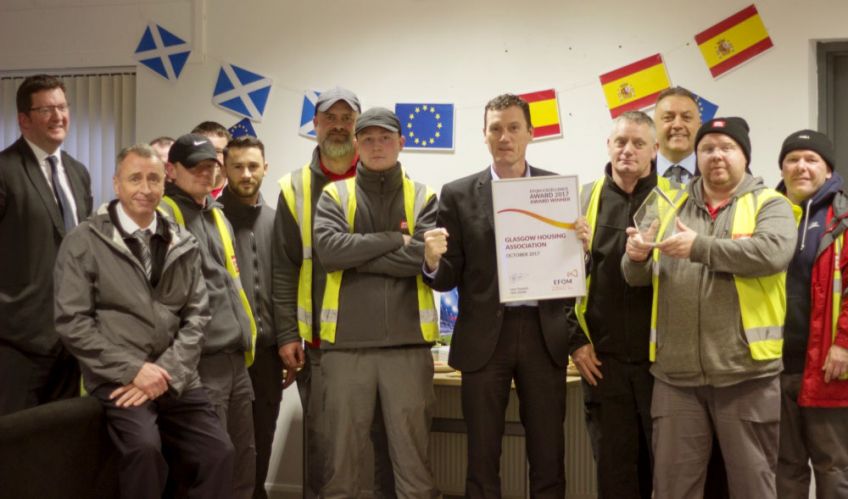 Bernadette Hewitt is a GHA tenant from Barmulloch in Glasgow. Late last year she travelled to Madrid to receive a prize: no ordinary prize. In fact, the Global Business Excellence Award was due to be handed over to Bernadette by King Juan Carlos of Spain.
However, the not insignificant decision by the Catalan Government the day before the awards ceremony to declare independence resulted in him being elsewhere that night. What helped to retain the importance of the moment for GHA, and the wonderful sense of occasion, was the presence on stage of business leaders from the two other organisations to receive Global Business Excellence accreditation in 2017.
One was the Dubai Electricity and Water Authority, government owned and responsible for all power and water supply in the emirate, and Bosch, the global technology supplier, which generates sales annually of over of 70 billion Euros.
The award recognises the world's best-performing organisations – private, public and non-profit. In that moment, the myth that public sector organisations can't and shouldn't compete with the Apples and Amazons of this world, in the realms of customer care and focus, was detonated, for ever.
GHA owns and manages 40,000 social-rented homes across Glasgow, and as part of Wheatley Group takes its responsibility very earnestly – with partners such as the City Council, health board, police and fire and rescue – to develop and maintain safe and thriving communities, creating and deploying sector-leading practices, products and services. Each day, its 960 dedicated staff go to work – not to win awards - but to ensure GHA lives up to its cherished motto, "Better Homes, Better Lives, a Better Glasgow".
That said the award, which is underpinned by a rigorous assessment process based on the European Foundation for Quality Management's excellence model, is welcome recognition of their efforts. According to the EFQM, it is "like playing in the Champions League".
GHA's North Area Director Andy Ashcroft summed it up nicely when he addressed staff some weeks later, when the EFQM award was taken on a tour of offices and depots across the city. He said: "GHA being on that stage in Madrid was like Albion Rovers playing Barcelona in the Nou Camp – and coming home with the cup."
Andy and his fellow GHA Area Directors Jackie Morris and Jennifer Russell made sure, as they went round the city on their GHA trophy tours, that every single member of staff they thanked personally had the opportunity to hold the award. "After all," said Andy, "this is your award and it's not every day an organisation like GHA is able to mix it with the big boys of world business."
And mixing it with the big boys is exactly what GHA did. Scotland's largest social landlord was recognised, in the words of EFQM, as "industry leaders with an indisputable track record of success in turning strategy into action and continuously improving their organisation's performance".
It was no mean feat. EFQM dispatches each year a team of international business managers with different backgrounds to spend a week at applicants' sites, plants and offices, spending an average of 500 hours analysing performance and interviewing dozens of employees at all levels. Their feedback and research is presented to an independent jury. To win Global Business Excellence, "applicants must demonstrate performance not only exceeds their peers, but also that they will maintain this advantage into the future".
Bernadette, in her acceptance speech as Glasgow Housing Association's tenant chair, praised GHA's amazing employees and their incredible ThinkYes culture and attitude, which helps them maintain customer satisfaction at over 90 per cent.
It was a brief pause for celebration. As Bernadette and everyone else back in Glasgow knew – tenants, staff and Board members alike – nothing stands still at GHA. It is something the EFQM assessors picked up from both frontline and support colleagues, from housing staff to welfare rights officers, from fuel advisors to Changing Life Officers: a ready acceptance and embrace of the unrelenting need to stay ahead of the curve of customer expectations.
It is a complete and utter contempt for complacency that is in the DNA of all great organisations, the world over. Kaizen might represent the theory and practice of continuous improvement. At GHA and Wheatley, standing still is simply not an option. Roll on 2018.
Friday, March 09, 2018