Justice Secretary launches new safer communities partnership
Scottish Justice Secretary Humza Yousaf has launched a pioneering new approach to making communities stronger and safer places to live.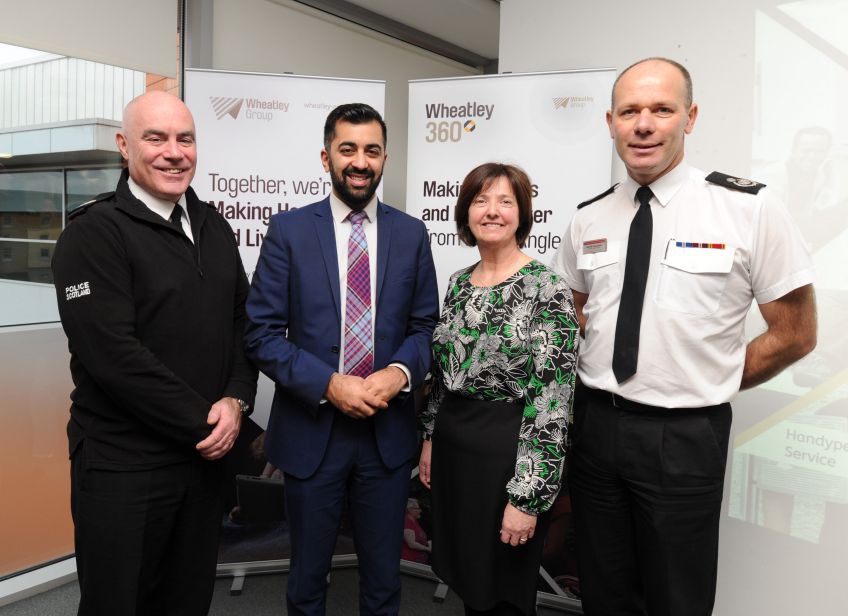 Wheatley 360 brings together housing, environmental and support staff from Wheatley Group with police and fire officers to tackle everything from anti-social behaviour and fire safety to fly-tipping, graffiti and food and fuel poverty.
The ground-breaking initiative is the brainchild of Wheatley, Scotland's largest housing, care and property management group, which has over 250,000 customers across the country.
Wheatley 360 Managing Director Alex Adrain said: "The aim is to make communities safer and stronger from every angle by taking our existing successful partnerships with the police and fire and rescue services to a higher, even more ambitious level."
Launching Wheatley 360 in Glasgow, Mr Yousaf said Wheatley 360 had a crucial role to play in improving community resilience in some of Scotland's most disadvantaged areas.
Wheatley has operated an award-winning Community Improvement Partnership (CIP) with police and fire and rescue for seven years, over which time 16 police officers and a fire service officer have been seconded to the Group to work hand in glove with housing officers in Wheatley communities.
Now, as part of Wheatley 360, the CIP team will be part of a new, even bolder approach to promoting and sustaining safer, stronger communities. It will operate alongside four fire safety officers, two home safety officers, two group protection officers and four behavioural change officers.
Wheatley 360, will also offer:
fuel and benefits advice to tenants;
an innovative, new online housing advice and letting service called MyHousing;
free re-cycled quality furniture to people in need through a Home Comforts service;
emergency food supplies to vulnerable individuals and families through its Eat Well service;
a range of environmental services, including a partnership with Keep Scotland Beautiful that involves tenants grading neighbourhoods and suggesting improvements;
protection officers who will liaise with other agencies to deal with issues such as domestic abuse, child and adult protection.
Mr Adrain said: "We don't want just to divert resources and teams to tackle things like anti-social behaviour.
"To date, we have combined, to good effect, the experience, expertise and intelligence-gathering capabilities of our housing staff and the uniformed officers seconded to us.
"Although this is ground-breaking in its own right in tackling issues caused by a minority of people in some communities, we are aiming even higher. We want to create a positive, sustainable step change in the lives of both the people who suffer from unacceptable behaviour – and those causing the distress."
He added: "The aim is to change the behaviours of people and communities by giving them the support and inspiration they need to lead better, more productive lives.
"That could be anything from employment and training opportunities to help with benefits and even putting food on their tables."
Mr Adrain said Wheatley 360 had piloted already a programme in Govan, Glasgow, with youth development group Animalia that had proved that by engaging with young people behaviours could be changed and communities made safer.
Mr Yousaf added: "Wheatley 360 is an innovative programme that fosters a creative approach to building community safety and offers a range of important services to help improve the life-chances of its customers. This initiative will also have a crucial role in improving community resilience in some of Scotland's most disadvantaged areas.
"Projects such as Animalia, which was supported by the Scottish Government's CashBack for Communities programme, can make a vital difference to the lives of vulnerable young people and help to support the aim of creating a safer, stronger Scotland for all."
Case study: Harmony Row
Last year, Harmony Row in Govan was struggling with anti-social behaviour from young people in the area. GHA, part of Wheatley Group, worked with Animalia – a sports clothes brand and youth development project – to reduce youth crime.
The project gave young people guidance, inspiration and positive activities to get involved with, as well as combating some of the effects of poverty by giving them food, access to computers and encouragement to get into jobs and training.
Young people are now more engaged with the housing association and with the police – leading to a reduction in anti-social behaviour and crime.
Animalia's John Collins said "It's about giving chances. If you don't give people a chance you can't expect change."
Alex Adrain said: "Harmony Row has been a really encouraging and really positive example of the behavioural change model. It's no longer about enforcement, it's about tackling the root causes."
Wednesday, November 21, 2018