Wheatley Chief Executive awarded major business honour
Wheatley Group Chief Executive Martin Armstrong has been awarded one of Scotland's most prestigious business honours.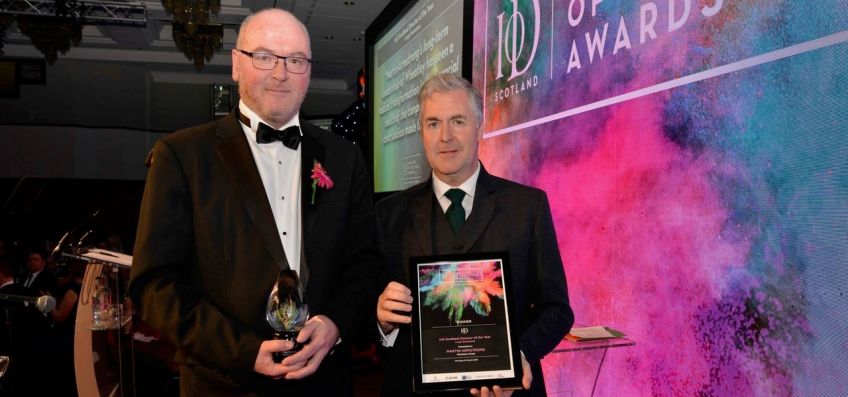 The Institute of Directors (IoD) Scotland last night named the Wheatley Chief Executive as Director of the Year in the large business category.
The judging panel, chaired by Raymond O'Hare, said: "Martin Armstrong's long-term leadership of Wheatley has seen a radical transformation in the financial health of the company and the contribution it has made to Scotland."
The large business category shortlist also featured Craig Anderson at The Scottish Salmon Company, Alban Denton at Loch Duart and Mark Williams at NWH Group.
David Watt, Executive Director of the IoD Scotland, added: "These awards allow us to celebrate the immensely diverse landscape of businesses across Scotland, and the women and men who lead them.
"All of the finalists are effective and dynamic leaders, and their skills are vital to building Scotland's future. Strong leadership remains a constant driver of performance amid overwhelming change inflicted by external forces such as economic and political uncertainty.
"These leaders are at the top of their game, and have much to share, not only within the confines of their business or sector, but also with society as a whole."
The IoD Scotland awards highlight the diversity of the business landscape in Scotland, with categories for SMEs to large businesses, charities to the public sector.
They honour those individuals whose creativity, leadership or innovative business practices have led to success for their organisation and the communities they serve.
All of the winners from Scotland will progress to the prestigious UK Director of the Year Awards, which take place in London, in October.
Pictured: Wheatley Group Chief Executive Martin Armstrong was presented with his Director of the Year award by Raymond O'Hare, Chair of the IoD Scotland Director of the Year Judging Panel.
Friday, March 23, 2018