Minister hears how Wheatley Homes Glasgow is heating homes for less
An innovative heating project to help tenants of Wheatley Homes Glasgow with their energy bills has been praised by Patrick Harvie MSP.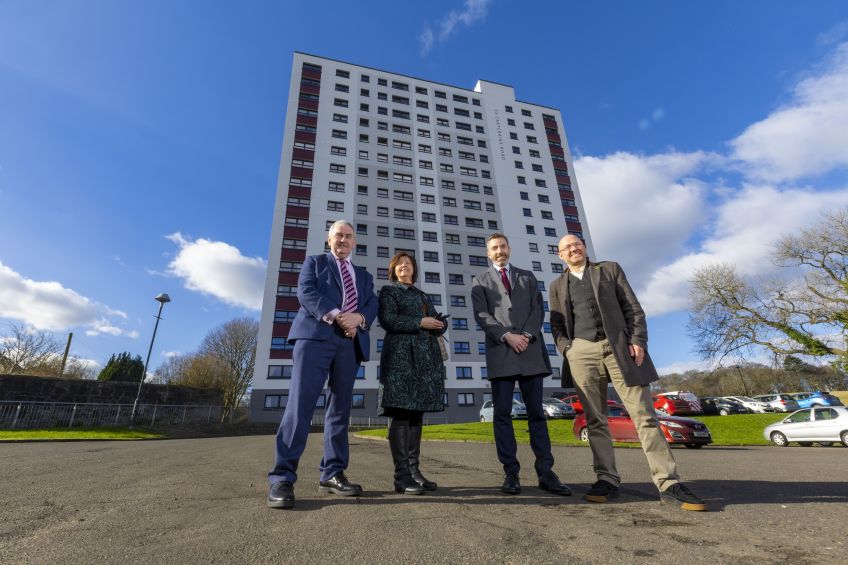 The Minister for Zero Carbon Buildings, Active Travel and Tenants' Rights visited a multi-storey block at Cartcraigs Road in Pollokshaws to hear about 'Connected Response' technology.
Wheatley Homes Glasgow, part of Wheatley Group, is fitting 10,000 Connected Response devices inside homes across the city to help tenants control their electric heating.
The technology helps tenants pay only for the energy they need by measuring the temperature inside and outside, while also using cheaper tariff periods throughout the day to charge the heating and hot water.
The Connected Response project is being supported by £6million from Scottish Government's Social Housing Net Zero Heat Fund.
The Minister met Wheatley Homes Glasgow tenant Norman McLeod who explained how Connected Response is helping with his fuel costs.
Mr Harvie said: "Reducing emissions from our homes and buildings is one of the most important things we can do to help end Scotland's contribution to climate change. By doing so, we will also reduce the amount of energy we need to heat our homes, resulting in lower energy bills.
"The Connected Response technology is a really good example of how the Scottish Government's Social Housing Net Zero Heat Fund is helping social housing landlords and tenants achieve these objectives.
"I was very pleased to hear directly from Norman about how the technology, together with further energy-efficiency measures being rolled out by Wheatley Group, is making homes in Pollokshaws and beyond warmer, greener and cheaper to run."
The Minister was joined by Wheatley Homes Glasgow tenant Chair Bernadette Hewitt, Wheatley Group Chief Executive Steven Henderson and Connected Response Managing Director Kenny Cameron.
Wheatley Homes Glasgow tenant Norman McLeod, aged 78, said: "It makes a big difference. My block also has new windows and new insulation fitted to the outside as well. It looks great, is warm and it's also really quiet now."
Connected Response uses the existing heaters, which prevents material being sent to landfill and extends the lifespan of appliances. It has been shown to reduce energy use by up to 30% and cut bills by up to £300 per year.
Wheatley Homes Glasgow Chair Bernadette Hewitt added: "We know rising energy bills are a big worry for our tenants. That's why it was great to welcome the Minister to Pollokshaws and let him hear about Connected Response being fitted in thousands of homes across Glasgow.
"It's important that social landlords embrace the latest technology to help keep tenants' homes warmer and energy bills as low as possible. If any Wheatley Homes Glasgow tenant is worried about heating their home then I'd urge them to get in touch with us. We're here to help."
Image caption: [L-R] Connected Response Managing Director Kenny Cameron, Wheatley Homes Glasgow Chair Bernadette Hewitt, Wheatley Group Chief Executive Steven Henderson and Minister for Zero Carbon Buildings, Active Travel and Tenants' Rights Patrick Harvie - image by Jeff Holmes
Thursday, March 02, 2023