Wheatley Group charges on with electric car scheme success
An electric car club in Glasgow is on the road to success in time for its second anniversary – after customers travelled over 74,000 miles in only two years.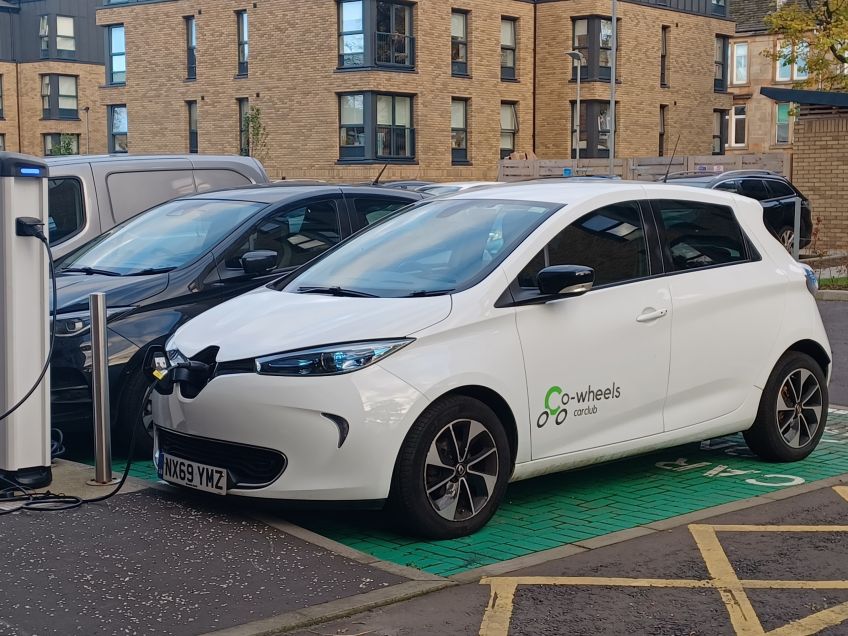 Tenants of Wheatley Group are helping to reduce their carbon footprint and save money thanks to the car sharing project.
The car club is backed by Transport Scotland and Co Wheels, with sites currently at Dalmarnock, Ibrox, Broomhill and Shettleston.
Tenants of Scotland's leading housing, care and property-management group – which includes GHA, Loretto HA and Lowther in the city – have booked 2231 road trips in two years.
Wheatley customers have racked up more than 74,085 miles using the ultra-low emission vehicles – which is more than three times the circumference of the Earth.
Lowther tenant Marta Porrini, 29, is an osteopath from the south side of Glasgow. Marta said: "It's been a great initiative which has been really useful when you need to run errands or in my case, travelling for work. Not only is it handy for when you need to get somewhere quickly and have no other means of transport on your doorstep, but it is also very good for the environment as well.
"I'll be using the scheme as much as I can. As well as its environmental impact, it's also a really cost-effective way of getting around. I work in Stirling but live in Glasgow, so the cost of using a petrol or diesel car is much higher than using an electric car."
Customers can rent a car for a specified number of hours, paying a fraction of the price it would cost to rent out a fuel car. Car club members can save £1000 a year compared with owning a car.
The average Co2 emissions saved from the use of the electric vehicles is two tonnes – more than the weight of two elephants.
The scheme is being expanded to cover nine locations across Glasgow and Edinburgh by the end of the year. While Wheatley residents can rent electric cars on site at the four current locations in Glasgow, they also have access to a wider fleet of cars as part of the Co Wheels Car Club, which operates across the UK at more than 46 locations.
Supporting the use of electric cars is another way Wheatley is driving the green agenda in homes and communities throughout Scotland.
The Group is investing £100m on sustainability initiatives over the next five years as part of its 'Greener Homes, Greener Lives' campaign.
Stephen Devine, Wheatley Group Director of Assets and Sustainability, said: "It is fantastic to see our tenants take full advantage of the electric car club scheme in their neighbourhoods and supporting greener initiatives.
"At Wheatley, we are absolutely committed to making communities greener and we'll continue to work with our car supplier Co Wheels to make it available for even more tenants, and in more communities."
Transport Scotland's Plugged-in Households Grant Fund has supported Wheatley in rolling out the electric car club scheme.
Minister for Transport Graeme Dey said:
"It's great to see the continued success of electric vehicle car clubs for the tenants of Wheatley Group. I'm pleased that the Scottish Government can support the expansion of the scheme through our Plugged In Communities programme.
"In Scotland, we have a world-leading commitment to reduce car kilometres travelled nationally by 20% by 2030 – because a greener transport system isn't simply a case of more electric vehicles. We need to encourage a shift away from private car use too in order to meet our ambitious climate targets.
"What's so innovative about the Plugged In Communities programme is that it offers a viable alternative to car ownership, whilst still allowing affordable access to modern electric vehicles, so that no one is left behind in the transition to a net zero transport system. With Wheatley customers alone already travelling the equivalent of three times around the earth in shared zero emission vehicles – the potential of EV car clubs is clear to see."
The expansion of Wheatley's electric car club scheme comes as the UN Climate Change Conference 2021 takes place in Glasgow [31st Oct- 12th Nov].
Thursday, November 04, 2021