Wheatley's Home Comforts scheme is great news for the environment and tenants
Over 236 tonnes of furniture have been saved from being dumped or going to landfill thanks to a life-changing upcycling service from Wheatley Group.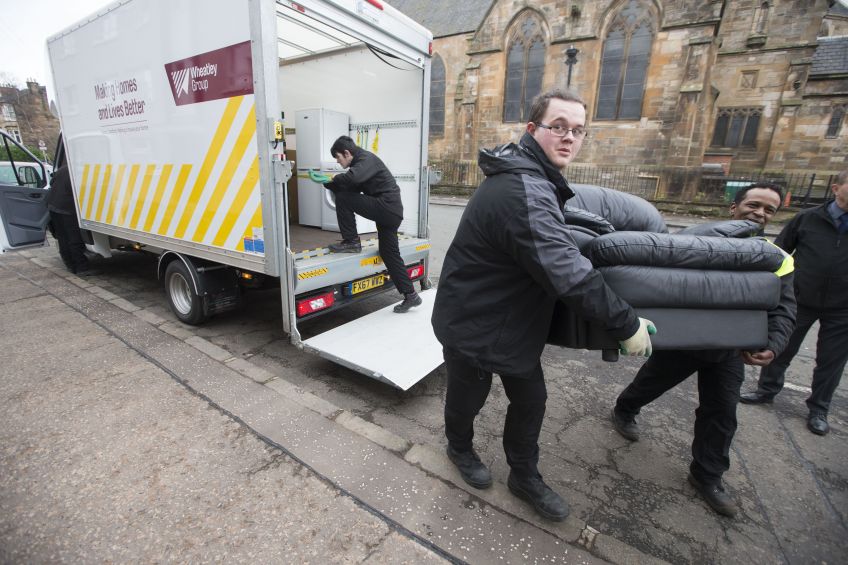 Scotland's leading housing, care and property-management group runs the Home Comforts programme for tenants who need help to furnish their home.
Home Comforts takes donated pieces of unwanted furniture which may otherwise have been dumped and makes them as good as new. They are then passed to tenants in need who cannot afford sofas, beds, cookers, wardrobes and more.
Since 2018, over 230 tonnes of furniture – the same weight as a blue whale or the Statue of Liberty in New York – have been recycled and passed to tenants.
Home Comforts supports customers from across the Group's social landlords including GHA and Loretto Housing.
GHA tenant Sharon Donaldson, from Maryhill, received a fridge freezer from Home Comforts.
She said: "When my fridge freezer broke down, I couldn't afford a new one, so my housing officer referred me to Home Comforts. I was so impressed with the fridge freezer they gave me – it was spotless and looked like new. It's a brilliant service and I don't know how I would have managed without it."
Over the last year, Home Comforts has helped 442 households across central Scotland – with 1626 pieces of furniture, white goods or electrical items passed to tenants in need.
This is the equivalent of 60 tonnes of furniture which would otherwise have ended up in landfill.
Home Comforts is another way that Wheatley is driving the green agenda in homes and communities throughout Scotland.
The Group is investing £100m on sustainability initiatives over the next five years as part of its 'Greener Homes, Greener Lives' campaign as Glasgow gets ready to host COP26.
Stephen Devine, Wheatley's Director of Assets and Sustainability, said: "Home Comforts is a great example of the 'circular economy', helping extend the life of quality furniture and appliances, and avoiding an unsustainable waste of resource. It helps tackle our throw away culture, by making best use of what we already have and avoiding yet more consumption.
"Furniture and white goods come from a wide variety of sources, including furniture left in void or abandoned properties, as well as donations from staff and customers.
"Home Comforts benefits the environment and also provides a lifeline service to tenants who struggle to furnish their home and could fall into debt buying white goods, electrical items, beds or sofas."
The service is certified under the Revolve scheme through Zero Waste Scotland, which makes sure it meets all legislative and trading standards. This provides customers with the comfort that any items they receive have met the highest standards.
The Scottish Government also plans to introduce Circular Economy legislation, helping to cut demand for raw materials and encourage reuse, repair and recycling – something the Home Comforts programme has been doing since it launched.
Monday, September 20, 2021