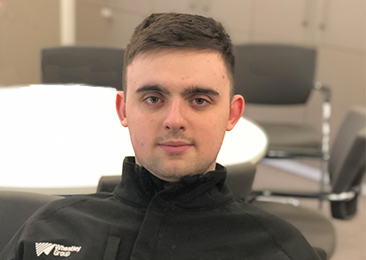 Jack Donohoe
Jack Donohoe, 18, from Cumbernauld, joined Wheatley Group as a Modern Apprentice six months ago. As a Business Administration apprentice, Jack has been working with YourPlace.
After leaving school, I was thinking about studying Business at college, but then I found out about the Wheatley Group Modern Apprenticeship scheme through Skills Development Scotland.
When I realised I could study for an even better qualification while working, I knew the scheme was the right choice for me.
I've really enjoyed the variety of work I've been doing, especially sorting the mail. In the morning I collect the mail and I never know what will be there, so every day is different.
I'm about to start a new project with the diligence team focusing on written off debt which I think will be very interesting.
Before starting at Wheatley Group, I was very shy.
I have autism and the scheme was something very different for me.
Over the past six months, I have built relationships with my colleagues and improved my social skills.
I struggled at school, but this has been totally different. I feel supported and can work at my own pace.
I've really enjoyed the work I've been doing, it's very varied and I've been able to work with different teams.
I'm also studying for a Level 3 Business Administration SVQ which has been going really well.
I would definitely recommend the Modern Apprenticeship scheme to anyone thinking about applying.
Getting work experience alongside a qualification is great, and the application process is straightforward. I'm so glad I applied.
Back to Our stories