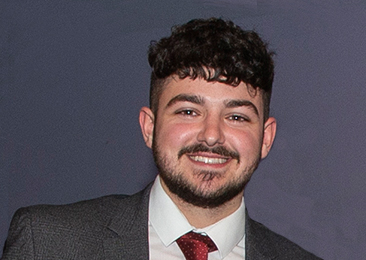 Lewis Munro
Lewis Munro, 19, from Edinburgh, started as a Modern Apprentice and now hopes to become a Housing Officer.
Two years ago I was working part-time in Sports Direct.
Today, I'm sitting my housing qualifications, learning loads, and working towards a career as a Housing Officer.
Being part of the Wheatley Modern Apprenticeship programme is easily one of the best decisions I've ever made.
To be honest, it wasn't where I thought my career would be going. I'd applied for the Army when I was 15, but I was told to reapply in a couple of years' time.
How did I find out about the scheme? My cousin was a former Apprentice of the Year and she told me to apply and said I'd like it.
I didn't know anything about housing at that time. I started off working with the compliance and investment teams.
In the morning I could be at my desk on the computer. In the afternoon I'd be up on top of a building finding out about roof inspections. The job was really varied.
Within eight months I'd been promoted to the business support team.
I was then offered a role as a Customer Assistant. I got more money and, just as importantly, it made me feel really good about myself. I felt rewarded and appreciated.
What next? There are so many career opportunities at Wheatley. I might look at a full-time role in another part of the business or consider the Ignite Graduate Programme.
What I do know is that I've no regrets about choosing a career with Wheatley.
Back to Our stories