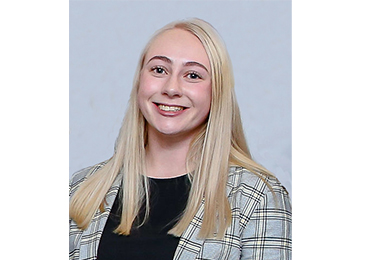 Hannah Dodds (housing graduate)
Housing graduate - GHA housing officer
Wheatley's graduate programme was the only one for me.
Why? During my time studying Philosophy at the University of Glasgow, I knew the importance of good housing.
I volunteered at a homeless shelter in Glasgow for four years while I was a student. It was a real eye-opener and a challenging experience.
Everyone has a right to housing and to feel safe at home – but I know not everyone is given this opportunity. I believe it should be a fundamental right.
I enjoyed my experience with the shelter so much that when I graduated in 2018 I spent time working with Turning Point Scotland, which supports people facing complex and challenging situations.
At this time I found out about Wheatley's Ignite graduate programme. It was a perfect fit for me as I wanted to make a difference.
I wanted to work in a frontline housing team. I applied and was successful.
I've been working in GHA's local office in Baillieston since October last year.
Right from the start I had the chance to shadow the housing officers and learn about the role.
Being a graduate, and my own experiences, really helped prepare me for all of the different challenges.
There's more to it than just housing, you are helping people with their lives.
I'm now a Housing Officer in the area and loving the experience.
Wheatley Group is all about helping people. If you want a career that makes a difference then this is the right place for you.