Housing Minister launches 130 new affordable homes in Castlemilk
Residents in a development of 130 new affordable homes in Castlemilk told Scotland's Housing Minister today how their new houses had changed their lives.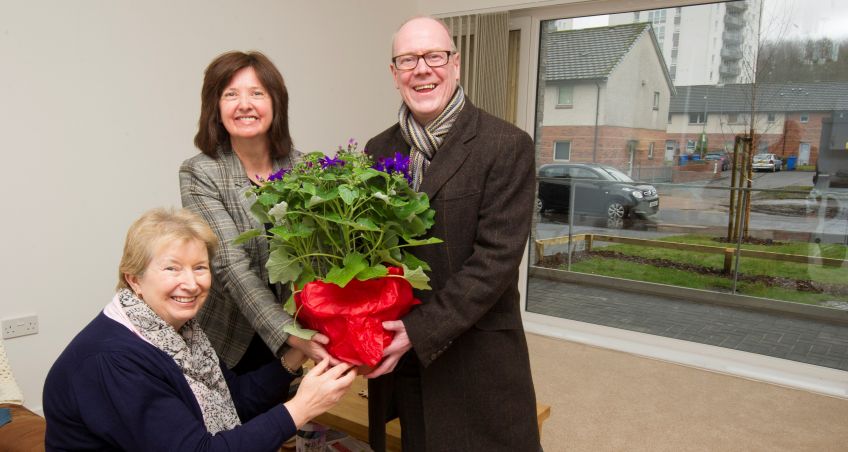 Kevin Stewart MSP was given a tour of GHA's £14.8million development which has been built on the site of old tenements in Dougrie Drive which were demolished 10 years ago.
The Minister heard how the project has provided much-needed affordable housing for the area as well as jobs and training opportunities with 10 young people gaining work on the site. Five of them became apprentices in joinery, bricklaying and plumbing.
The development is made up of 130 modern, fuel-efficient homes for social rent with a range of house types including one and two bedroom cottage flats, and three bedroom houses.
There is also an amenity block of 44 self-contained flats, 11 of which are suitable for wheelchair users. The block is designed to support people with a range of different needs and has a common room and a landscaped central courtyard for residents to sit out and socialise.
Tenant Agnes Campbell, 65, moved into Dougrie Court from her former home in nearby Dougrie Road last month. Agnes said her ground floor flat not only suits her much better, she is also delighted with the open-plan layout.
Agnes, a retired quality manager for a medical firm, said: "It's absolutely fabulous. I'm extremely happy here. The flat is open-plan, the heating is great and there's always lots of sun coming through the full-length windows.
"The balcony will be perfect for sitting outside during the summer. The courtyard at the back is also stunning, especially when it's lit up at night. I love it here. I'm really delighted."
The Minister was joined by GHA Tenant Chair Bernadette Hewitt, tenants, staff of GHA and its parent company Wheatley Group, local housing committee members, local elected members and representatives from the Scottish Government, Glasgow City Council, contractor CCG and other partners.
Housing Minister Kevin Stewart said: "I am delighted to see the great benefits this development has brought to residents, including those with additional access requirements as well as the local community through new jobs and training opportunities. This is a project that is matching affordable housing with the needs of people.
"Supported with £7.3 million Scottish Government funding, the development shows how possible it is to have homes that are affordable, high quality, modern, and sustainable – providing affordable housing for the community and also helping to reduce living costs such as heating.
"We are committed to delivering at least 50,000 affordable homes over this Parliament, and ensuring those meets the needs of people and communities across Scotland - backed by £3 billion of investment. As this development shows, working together with housing associations and others, I know that target can be achieved."
GHA Chair Bernadette Hewitt said: "Developments like these, first and foremost, provide local people with quality affordable housing. But with that comes opportunities for people to have a better quality of life too. I'm delighted that because of the scale of this Castlemilk development we have helped create jobs and training opportunities with 10 young people getting jobs and apprenticeships. I truly believe providing these opportunities can help people change their lives for the better."
The development was part-funded by a Scottish Government grant of £7.3m and £7.5m of private finance raised by Wheatley Group.
The contractor on the development was CCG. Alastair Wylie, Chairman and CEO of CCG, said: "Dougrie Court is another example of how CCG and GHA have worked together in large-scale urban regeneration.
"We have delivered on our promise to provide quality, affordable housing as well as providing employment opportunities for the local community creating a lasting legacy for Castlemilk."
Thursday, March 15, 2018