Paddy Gray backs "impressive" Foundation furniture service
Chair of Wheatley Foundation, Professor Paddy Gray OBE, has praised an upcycling furniture service which is helping tenants in need.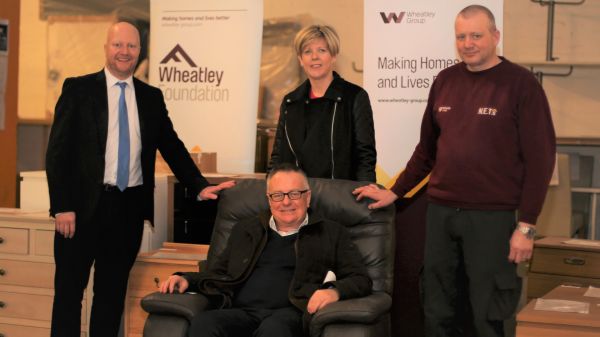 Home Comforts provides free furniture and white goods to Wheatley Group tenants in Glasgow and the surrounding area who need extra support.
The service takes donated pieces of unwanted furniture – such as sofas, beds, cookers and wardrobes – and upcycles them before passing them to tenants.
The service is funded by Wheatley Foundation, the charitable arm of Wheatley Group, Scotland's leading housing, care and property-management organisation, and a former winner of the UK's Foundation of the Year award.
Professor Gray visited the depot in Skypark in Glasgow to meet staff – and to hear about plans to extend the service to Edinburgh and Dumfries.
Professor Gray said: "It was a privilege to visit the fantastic Home Comforts service.
"The quality of the furniture, the speed in which it is turned around and delivered to tenants – as well as the commitment and dedication of staff – is really impressive.
"As the cost of living continues to rise, there's a real need for this support among our customers and it's important we continue to do as much as we can to help."
Since the launch of the service three years ago, Home Comforts has distributed more than 6600 items of furniture and white goods to almost 1800 households in and around Glasgow.
That represents 280 tonnes of furniture which would otherwise have been dumped or gone to landfill.
In the past year alone, 25% of customers who received furniture were previously homeless.
The Home Comforts service is certified under the Revolve scheme through Zero Waste Scotland, which ensures it meets all legislative and trading standards, as well as standards in cleanliness and service.
Home Comforts is currently available to customers of GHA and Loretto Housing in the west of Scotland. The Foundation is working with furniture re-use charities to extend the service to Edinburgh and Dumfries.
Lynne Mitchell, Foundation Manager, said: "Home Comforts is a real lifeline to customers struggling to furnish their home.
"We were delighted to welcome Professor Gray to the depot – and it's great to hear how impressed he was.
"There's such an increase in demand for the service we hope to support 1000 households over the next year. We look forward to rolling out this lifeline services to Edinburgh and Dumfries later in the year with our local delivery partners."
Home Comforts is one of a range of wraparound support services offered by Wheatley Group to help tenants, including emergency food supplies through EatWell as well as free expert welfare benefits and fuel advice.
Any tenant of GHA or Loretto tenant who needs support to furnish their home should contact their housing officer.
Thursday, March 17, 2022