Social Bite launches 600 homes campaign
Social Bite launches 600 Homes campaign, described as "game-changing" in how Scotland deals with homelessness.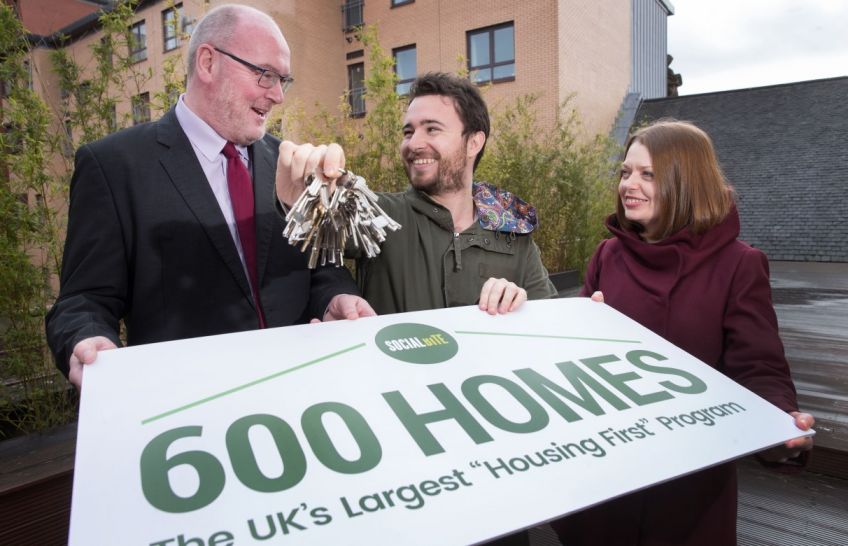 Today (Wednesday Feb 21), Social Bite launches the '600 Homes' campaign, a plan to take a minimum of 600 people out of homelessness within the next 18 months and into a proper home with a fully funded support.
The campaign is being largely funded by money raised from December's Sleep in the Park, the world's largest sleepout which saw over 8,000 people from all walks of life sleeping out in Edinburgh on the coldest night of the year.
A combined total of 500 properties have been offered in Edinburgh by City of Edinburgh Council and a range of housing associations (through EdIndex) and in Glasgow and the Central Belt from the Wheatley Group. Today, Dundee City Council (with partner housing associations) also pledges 100 homes over the 18 months of the program.
This takes the joint total on offer so far throughout Scotland to 600. The first homes will become available in Spring this year with roughly 33 properties per month being released each month up to September 2019.
The 600 Homes campaign follows a 'Housing First' model, which aims to turn the existing homelessness system on its head. Rather than making extremely vulnerable people, often with complex needs, sleep rough or in hostels or B&Bs, the Housing First system gives people a secure home and then puts in a place a support structure to help them sustain their tenancy and re-integrate into society.
Social Bite will invest £1.5m into funding these support costs over the first 12 months. The social enterprise then plans to invest a further £1.5m over the following 12 months, alongside other funders. Funds will be distributed to a range of local homelessness service provider charities to deliver the support.
Social Bite plans to collect evidence on the outcomes of the program, particularly linked to tenancy sustainment, positive mental health improvements, and cost savings to local authorities, as well as the cost savings for police, criminal justice and health budgets.
In line with this, it will also be seeking to work with the Scottish Government and local authorities to try to ensure that funding for this 'wrap around' support is ultimately mainstream, based on demonstration of successful outcomes.
Josh Littlejohn MBE, co-founder of Social Bite, said: "Prior to Sleep in the Park, we commissioned a study from Heriot-Watt University, which engaged with almost every homelessness charity in the country on how homelessness could be eradicated in Scotland. The one key recommendation that the academics and the vast majority of the homelessness sector were aligned on was the implementation of a Housing First strategy, where homeless people are allocated a mainstream home and provided a comprehensive and flexible support structure.
"Because of the fundraising done by everyone who took part in Sleep in the Park, significant money is there to catalyse this support. And through EdIndex, Wheatley Group and Dundee City Council there are now 600 homes for people to move in to. There's also a structured, joined-up plan with a wide range of homelessness charities in place to provide support.
"Our plan is to start placing people that are currently sleeping rough and in hostels or other temporary accommodation into this mainstream housing this Spring. We will now seek to work alongside other funders and the Scottish Government to ensure that the ambitious scale of this Housing First program can be realised and that it can help lead to a significant structural change in how homelessness is dealt with in Scotland. All involved believe that this can be a major step in dealing with the homelessness issue here."
First Minister Nicola Sturgeon said: "Tackling homelessness is a key priority for the Scottish Government. That is why we have set up the Homelessness and Rough Sleeping Action Group, which includes Social Bite, to recommend the action needed to tackle the issue, backed by £50 million to drive change. That includes development of the Housing First model, which has shown great results so far.
"It is fantastic to see the funds raised by everyone who took park in Social Bite's Sleep in the Park supporting the 600 Homes initiative. The work of Social Bite has an important part to play in meeting our shared commitment to ensure vulnerable people can escape the dangers and uncertainties of homelessness, ensuring they have a warm and safe place to call home."
Leading homelessness academic, Prof Suzanne Fitzpatrick from Heriot-Watt University said: "The international evidence base supporting Housing First is overwhelming. While no one approach will ever suit everyone, there can be no doubt that Housing First is the best possible way to help the great majority of homeless people with complex needs. What is critical now is to use this game-changing opportunity of the 600 Homes programme to structurally embed Housing First as the 'default option' for homeless people with complex needs across Scotland. There will be vital lessons here too for the rest of the UK."
The City of Edinburgh Council's Leader, Adam McVey, said: "Our cross-party homelessness task force continues to meet to address this key issue for the city. Our services are facing unprecedented pressures and to help tackle this we have proposed an additional £2m for homelessness services in our budget, which will be considered by councillors later this week.
"We have a pledge to end bed and breakfast accommodation for families, care leavers and 16 and 17-year olds by June this year and EdIndex remain committed to providing an additional 275 permanent homes for homelessness people who will be supported using the Housing First model."
Councillor Cordell, Convenor of Neighbourhood Services in Dundee said: "Dundee City Council is pleased to be participating in the 600 Homes campaign which will help us to provide sustainable outcomes for vulnerable people in line with our 'Not Just a Roof' Housing Options and Homelessness Plan."
Martin Armstrong, Chief Executive of Wheatley Group, Scotland's largest housing association, said: "At Wheatley, we understand how complex and challenging an issue rough sleeping is. Housing First tackles it not just through providing homes, but by providing targeted, personalised support to help people rebuild their lives."
Wednesday, February 21, 2018