Wheatley Homes East development of 146 homes officially opened
Cabinet Secretary for social justice, housing and local government, Shona Robison MSP, officially opened Wheatley Homes East latest development last week (January 11, 2023).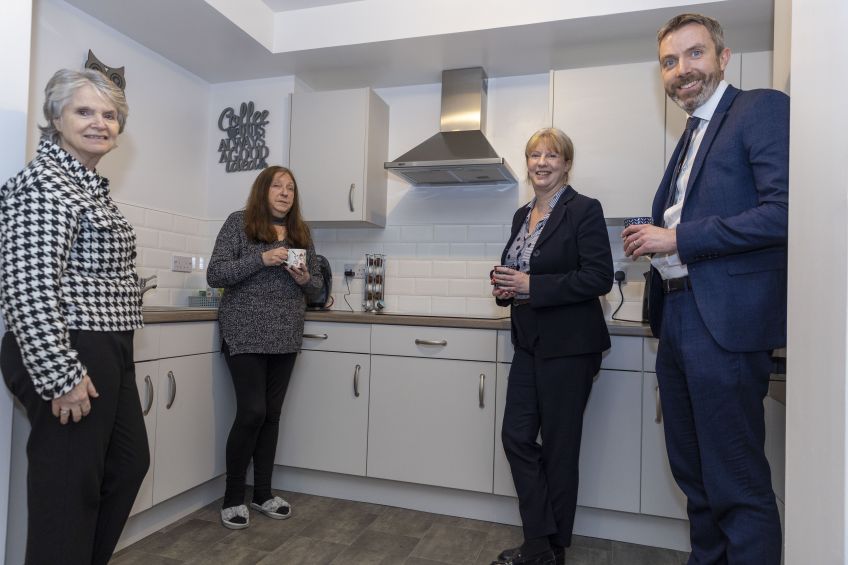 Ms Robison joined Wheatley Group Chair Jo Armstrong, Wheatley Group Chief Executive Steven Henderson and Wheatley Homes East board member Judith McGlashan for a tour of Almondvale Court in Livingston town centre.
The 146 homes, built in partnership with West Lothian Council, are a great example of Wheatley's new-build, housing and care teams working together to transform the community and provide life-changing services to customers.
Almondvale Court includes 92 mainstream homes for Wheatley Homes East, a mix of one, two and three-bedroom flats, with 66 for social rent and 26 for mid-market rent.
The development also includes 45 Livingwell homes, the Group's service – provided by Wheatley Care – to support older tenants to live in their own homes for longer.
Also on site are nine supported flats for Wheatley Care, providing personalised support to people living in their own homes, maximising independent living and improving their quality of life.
Ms Robison got a tour of the site and met staff and customers from Wheatley Homes East, Livingwell and Wheatley Care.
Housing Secretary Shona Robison said: "We want everyone to have a safe, warm affordable home that meets their needs. The Wheatley Homes East development of 146 new homes for social and midmarket rent is a testament to the strong partnership at national and local level.
"Supported by over £9.5 million of Scottish Government funding, this new development will support the local community and make a real and lasting difference to the lives of the new residents.
"We are now delivering on our commitment to 110,000 affordable homes by 2032, of which at least 70% will be available for social rent and 10% will be in our remote, rural and island communities."
Wheatley Group Chair Jo Armstrong added: "Almondvale Court is a great example of Wheatley providing homes suitable to people's needs, and our housing and care teams working closely together.
"Our Livingwell complex – the first outside Glasgow – helps older tenants live happily, healthily, and securely in their own homes for longer.
"Our colleagues in care help the people they work for get the most out of their lives and achieve their own positive outcomes, while our housing teams work tirelessly to support tenants in every way they can.
"The energy-efficient features of these homes help us cut our carbon footprint and help tenants with their bills too which is more important now than ever."
The £17.7m Almondvale Court development includes a £9.2m Scottish Government grant and the developer is the Cruden Homes East.
Monday, January 16, 2023