Employability
We're helping people find jobs, careers and training.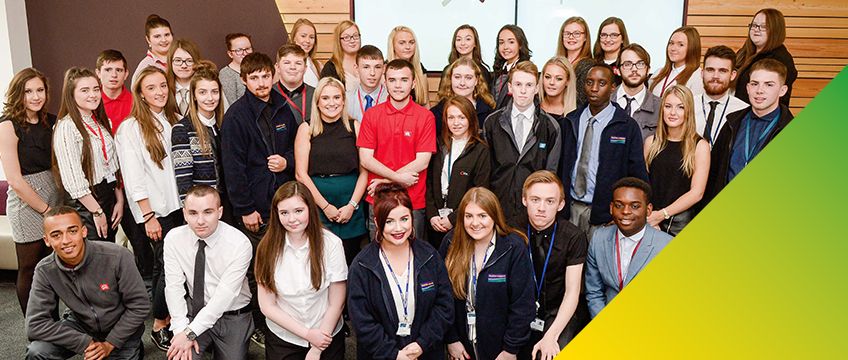 Wheatley Works is helping people find jobs, careers and training.
Find out more about some of the projects Wheatley Works supports to help people who live in our communities.
To find out how you could take part in one of our programmes please email wheatley.works@wheatley-group.com
Modern Apprenticeships
Our Modern Apprenticeships give school-leavers from some of Scotland's most deprived communities the chance to take the first steps in a rewarding career.
Apprentices work within Wheatley Group or one of our partner organisations and study for an SVQ qualification in a range of areas including housing, environmental or care. Apprenticeships last for two years.
In 2016–17 we doubled the number of modern apprentices we took on. A total of 89 young people started studying and gaining work experience with us.
This included 42 Modern Apprenticeships who have the opportunity to study for an SVQ in subjects ranging from housing and business administration to care during the two-year scheme. We also took on 45 environmental Modern Apprentices for the first time and two horticultural apprentices.
Apprenticeships are available for people aged 16–19. Applicants do not need any formal qualifications to apply.
For more information, email us at ma@wheatley-group.com
Open Door Programme
The Glasgow Centre for Inclusive Living (GCIL) Open Door Programme offers people with a disability a paid nine-month placement within Wheatley Group or one of our partner organisations.
It provides a range of support, training and personal development options to each trainee to better equip them to enter the world of work.
We offer people the opportunity to gain work experience, new skills, qualifications, increase their confidence and develop a positive attitude.
We also offer a reference at the end to help people gain future employment.
In addition, participants receive training including health and safety and a Chartered Institute of Housing qualification.
If you are interested in this programme then contact Glasgow Centre for Inclusive Living.
Changing Lives Programme
The Changing Lives programme offers an environmental-based placement with one of our subsidiaries for any of our customers who have barriers to employment.
Our environmental teams play a key role in Wheatley communities cleaning closes, cutting grass and hedges and maintaining common areas.
In 2016–17, the Foundation supported 52 training places through the Changing Lives programme for people who need extra support to get into work.
The programme includes a one-year placement with training including first aid and a Chartered Institute of Housing level 2 qualification.
For more information, email wheatley.works@wheatley-group.com
Community Benefits
Community Benefits opportunities are part of our contracts with the companies we work with and suppliers.
It allows our contractors and suppliers to have a positive impact in the local area by creating jobs and training opportunities for the people who live there.
Opportunities range from employment and training to school career events and visits. Many of the employment and training opportunities will be in the construction field.
Way Ahead Programme
The Way Ahead is an employability programme for Glasgow residents aged over 29 who are homeless, have an offending background or have an addiction.
The programme offers one-on-one support to help people through the journey into work, helping them remove or manage the barriers they face.
This programme is funded through the European Social Fund via Glasgow City Council.
A team of 10 mentors, working across Glasgow, will support over 400 people over the next year to help them transform their lives while developing the skills and confidence to find and secure work.
For further information, email way.ahead@wheatley-group.com